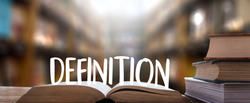 Full reference : Frison-Roche, M.-A., The practical utility to have a firm definition of "Compliance", Newsletter MAFR - Law, Compliance, Regulation, 10th of August 2020.
Read by subscribing the other news in the Newsletter MAFR - Law, Compliance, Regulation
To go further, read Marie-Anne Frison-Roche's working paper, The Dreamed Compliance Law
Summary of the news
There is a lot of argument around the definition of Compliance. But we could say: no matter these disputes, because fortunately defining Compliance is useless! Indeed, one could believe that "to define" is a school exercise, a matter of introduction in a student dissertation. Useless because it would be only theoritical (therefore, it is useless) and because it is too general (therefore, it is useless). This is why we should move on to what would be serious matters, namely the technical and positive study of concrete cases: for instance, a case of corruption, a reading of text on the protection of personal data, an analysis of a code of conduct, etc. At last something concrete! Finally solid! One could well do to leave the professors and other theorists to their games, even their childishness, of defining the concept of Compliance, to move towards "technical" and "pragmatic".
But on the contrary to understand and to manipulate the Compliance tools, it is so efficient to have a firm, clear and simple idea of what Compliance is. Because every technical rule and concrete solution depend of this definition. Moreover, the future of this new and so powerful area that is Compliance depends of this definition we decide to give it.
If we want to deal with new global risks, we need a large definition of Compliance by "Monumental Goals" around human beings.