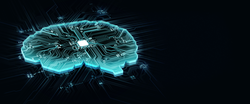 ► An article published on July 14, 2021 by The Wall Street Journal, "Brain Implant Lets Man 'Speak' After Being Silent for More Than a Decade", relays the information that it is now possible, on an experimental basis, to implant in the brain a device allowing a person deprived by a neurological accident to speak to be able to express himself again by writing his thoughts directly on a computer screen, on which the words thought are displayed in sentences.
____
Several years of "fundamental" research, notably on the part of Facebook, which, in particular by subsidizing the French professor of neurosciences Stanislas Dehaene, in a comparison between the learning development of the brain and the development of "deep learning", have been successful. to allow people who have lost the use of the voice to write directly on screens without this vocal medium by going directly from thought to writing.
This leads to three reflections, putting Law and Technology at the center:
1. at first glance, speech being only a medium between thought and expression, it would be conceivable to do without it;
2. However, it is required to draw a parallel with the new technology of "emotional recognition" by which thoughts are accessible to third parties, which thwarts the fundamental right to make one's thoughts inaccessible to others;
The news has shown precisely that this technology, making possible to capture the true thoughts of others despite feigned facial expressions, poses a problem with regard to the fundamental right to lie or to remain silent (see in this regard 📧 MaFR, "Compliance and Ethics Technologies may be inadmissible "in themselves" and conceiving of their "ethical use" is therefore not admissible: practical case on the control of workers' emotions ").
3. By anticipating the possible use of this new technology and the legal reaction to this potentiality, the same question raises whether, per se, such an implantation of a tool for "capturing thoughts directly in the brain" to obtain their "direct translation on a screen" should not be considered as the equivalent of capturing thoughts, just as infringing on everyone's fundamental right to keep their thoughts inaccessible.
Here again, the fact that in one or two cases, this made it possible to cure a person does not legitimize the technology in itself.
Likewise, the fact that the person "consents" is not sufficient to legitimize what may be a per se attack on the dignity of the human person if the technology has the effect of capturing thoughts with a loss of control. the person concerned. For the moment, in the description given by the researchers according to the article which relates the innovation, it is the transmitter who controls the technology but the elimination of the medium of speech or writing deserves to be conceptualized, in the loss of isolation of the individual, isolation to which the Western tradition has often associated Freedom.
_____