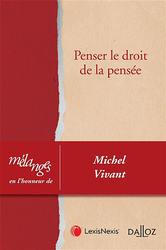 Full reference: Frison-Roche, M.-A., Se tenir bien dans l'espace numérique, in Penser le droit de la pensée. Mélanges en l'honneur de Michel Vivant, Lexis Nexis and Dalloz, 2020, pp. 155-168
Read Marie-Anne Frison-Roche's article (in French)
Read the working paper, written in English, on which this article is based, enriched with additional developments, technical references and hyperlinks
Summary of the article:
The digital space is one of the scarce spaces not framed by a specific branch of Law, Freedom also offering opportunity to its actors to not "behave well", that is to express and diffuse broadly and immediately hateful thoughts through Hate speechs, which remained before in private or limited circles. The intimacy of Law and of the legal notion of Person is broken: Digital permits to individuals or organizations to act as demultiplied and anonymous characters, digital depersonalized actors who carry behaviors that are hurtful to other's dignity.
Against that, Compliance Law offers an appropriate solution: internalizing in digital crucial operators the mission to disciplinary and substantially hold the digital space. The digital space has been structured by powerful firms able to maintain order. Because Law must not reduce digital space to be only a neutral market of digital prestations, these crucial operators, like social networks or search engines, must be forced to substantially control behaviors. It could be about an obligation of internet users to act with their face uncover, "real identity" policy controlled by firms, and to respect others' rights, privacy rights, dignity, intellectual property rights. In their Regulatory function, digital crucial firms must be supervised by public authorities.
Thus, Compliance law substantially defined is the protector of the person as "subject of law" in the digital space, by the respect that others must have, this space passing from the status of free space to the one of civilized space, in which everyone is obliged to behave well.
______
Read to go further: