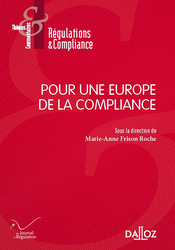 ♾️ follow Marie-Anne Frison-Roche on LinkedIn
♾️ subscribe to the Newsletter MAFR Regulation, Compliance, Law
____
► Full reference: Frison-Roche, M.-A. (ed.), Pour une Europe de la Compliance, serie "Régulations & Compliance", Dalloz & Journal of Regulation & Compliance, 2019, 124 pages.
____
​read the presentation of the Series in which this book is published
► Book Summary: This book is written in French. The topic is : "For the Europe of the Compliance".
See below its general presentation in English.
The political dimension is intrinsic to the Compliance Law. Indeed, compliance mechanisms consist of internalizing in certains companies the obligation to implement goals of general interest set by Public Authorities. These public bodies control the Ex Ante reorganization that implies for these companies and punish Ex Post the possible structural inadequacy of these compagnies, becoming transparent for this purpose.
This new mode of governance establishes a continuum between Regulation, Supervision, Compliance (book published in 2017) and renew the links between Companies, Regulators and Judges!footnote-1600.
This political dimension must be increased: the Compliance Law of Compliance must today be used to build Europe.
One can observe not only the construction of the European Compliance Law, object-by-object, sector-by-sector, purpose-by-purpose, but also the construction of the European Compliance Law that transcends and unifies them. Becoming independent of American Law and ceasing to be in reaction, even on the defensive, the Compliance Law contributes to the European project, offering it a higher ambition, that Europe can carry and, by this way, can carry the Europe itself, not only to preserve the European economy from corruption or money laundering, but by claiming the protection of nature and human beings.
This is why the book describes the "reasons and objectives" of the Europe of the Compliance, which makes it possible to describe, detect and even predict the ways and means.
____
Authors: Thierry Bonneau, Monique Canto-Sperber, Jean-Jacques Daigre, Charles Duchaine, Marie-Anne Frison-Roche, Arnaud de La Cotardière, Koen Lenaerts, Jean-Claude Marin, Didier Martin, Xavier Musca, Pierre Sellal et Pierre Vimont.
Each mention of an author refers to a summary of his contribution.
Read the book's foreword by Marie-Anne Frison-Roche, translated in English.
Read the working paper written in English by Marie-Anne Frison-Roche, base for her article published in French in the book : What the Law of Compliance can build relying of the European Humanist tradition.
________