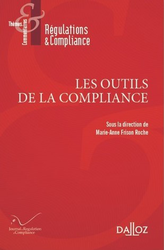 General reference : Frison-Roche, M.-A. (ed.), Les outils de la Compliance, série "Régulations & Compliance", Journal of Regulation & Compliance (JoRC) & Dalloz, 2021.
In parallel, the book is published in an English version Compliance Tools, co-edited by the Journal of Regulation & Compliance and Bruylant.
This book follows a cycle of conferences organized by the Journal of Regulation & Compliance and by its partner universities.
____
This volume is the continuation of the books dedicated to Compliance in this collection.
Read the other books ' presentations of the collection about Compliance:
Read the other titles' presentations of the collection.
___
General presentation of the book : The political dimension of Compliance Law resides in the monumental goals that it aims for and which define it. These goals are internalized in "crucial operators", who willingly or by force must structure themselves and act to achieve "monumental goals", as set by public authorities and which may coincide with the interests of the enterprise. This one designs and controls the Ex Ante reorganization that this implies, under the public authorities supervision. Enterprises, even if their activities are not regulated, thus become transparent and must show the Compliance Tools effectively deployed to effectively achieve these goals. It is a major transformation of economic life in all countries because the Compliance Tools are adopted everywhere and have a global effect.
These appear to be very diverse but their unity is profound and bringing it out has the practical benefit of producing a legal regime that is as unified as possible, while allowing their adaptation country by country, sector by sector, enterprise by enterprise.
This book aims to understand these Compliance Tools to better anticipate the assessment that will be made by Regulators, Supervisors and Courts, as well as the new conceptions of the authors of legal texts which impose new ones every day, while companies must also imagine the most appropriate Compliance Tools.
This collective work specifically apprehends those on which we have few studies when we handle them on a daily basis, such as risk mapping or training or rights, letting more familiar tools shine through more transversal contributions, such as compliance programs, sanctions, whistleblowing or many sorts of settlements, agreements of public interest.
A first chapter takes a legal and economic approach. A second chapter emphasizes the role of risk mapping. A third chapter draws the game of incentives. A fourth chapter identifies the expertise required. A fifth chapter insists on geographic significance. A sixth chapter details the measurement of effectiveness. A seventh chapter explores training. The eighth chapter examines technological tools. The concluding article leads to rights.
Read the general introduction of the book (in French).
Read the presentations of the articles of the book :
​
​
​
_____________