This book is about Internet, as a Space of Interregulation. It is written in French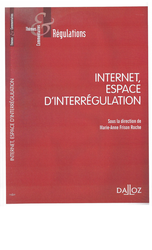 Complete references : Frison-Roche, M.-A. (dir.), Internet, espace d'interrégulation, Serie "Régulations", coll. "Thèmes & Commentaires", Dalloz, Paris, 2016.
Read the presentation of the book (written in French).
Read the presentation of the authors of the contributions (written in French)
"Regulate the Internet".
Some argue that any regulation is contrary to the nature of digital. Others argue that this is indispensable, for its economic deployment and for public freedoms. Internet renews conceptions and practices. Notably those of the Law of the Regulation. Indeed, the Internet makes it possible to offer and obtain services that are in often regulated sectors: financial, audiovisual, healthcare, gaming. Moreover, they converge in new objects: the connected objects.
Often described as a "legal desert", digital appears as a kind of jumble of systems of various regulations that overlap, deform and contradict each other. In reaction, an "interregulation", de facto or de jure, in law more or less flexible, is in the process of being established. Who will be the Regulator: The States? The judge? The Internet users?
The future is open.
The book first determines the "Interregulation Needs" and then describes and conceives solutions for the interregulation of the digital space.

Read the presentation of the two articles written by Marie-Anne Frison-Roche:

Thinking the world from the notion of "data"
To draw the regulatory consequences of a rethinked world from the notion of "data"
The working papers which are the base of these articles are written in English.