pour lire cette présentation en français ↗️cliquer sur le drapeau français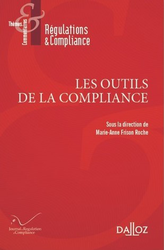 ► Full Reference: M.-A. Frison-Roche, "Approche juridique des outils de la Compliance. Construire juridiquement l'unité des outils de la Compliance à partir de la définition du Droit de la Compliance par ses "buts monumentaux"" ("Legal approach to Compliance Tools. Building by Law the Unicity of Compliance Tools from the definition of Compliance Law by its "Monumental Goals""), in M.-A. Frison-Roche, (ed.), Les outils de la Compliance, coll. "Régulations & Compliance", Journal of Regulation & Compliance (JoRC) and Dalloz, 2021, p. 27-38.
____
📝read the article (in French)
____
🚧read the bilingual Working Paper which is the basis of this article, with more developments, technical references and hypertext links
____
📕read a general presentation of the book, Les outils de la Compliance, in which this article is published
____
► Summary of the article (done by the Journal of Regulation and Compliance): The "tools of Compliance" do not stack on top of each other. They form a system, thanks to a unity drawn from the goals that all these multiple and different tools serve: the "Monumental Goals" by which Compliance Law is defined.
All these tools are configured by these goals and for mastering all these techniques, it is essential to put them all in perspective of what Compliance Law is, which is designed teleologically with regard to its goals. Extension of Regulatory Law and like it, Compliance Law is built on a balance between the principle of competition and other concerns that public authorities claim to take care of. Compliance Law has moreover more "pretensions" in this respect, for example in environmental matters. All the means are then good, the violence of the tools marrying without difficulty with the voluntary commitments since it is the goals which govern this branch of Law.
As legal solutions adopted show, a common method of interpretation and common levels of constraint for all Compliance Tools result from this definition. Starting from the goals (in which legal normativity is housed), the interpretation of the different tools is thus unified. Moreover, the different degrees of constraint do not operate according to the consideration of sources (traditional legal criterion) but by the goals, according to the legal distinction between obligations of means and obligations of results which result from the articulation between tools, of which the establishment is an obligation of result, and the goal, of which the achievement is only an obligation of means.
________