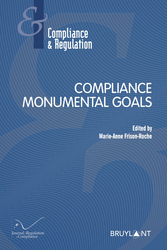 ♾️ follow Marie-Anne Frison-Roche on LinkedIn
♾️subscribe to the Newsletter MAFR Regulation, Compliance, Law
____
► Full Reference: M.-A. Frison-Roche (ed.), Compliance Monumental Goals, series "Compliance and Regulation", Journal of Regulation & Compliance (JoRC) and Bruylant, 2023, 518 p.
____
► This book in a few words: Seize Compliance by its mind: its Monumental Goals. The notion of "monumental goals" of Compliance was proposed in 2016 by Marie-Anne Frison-Roche📎!footnote-2828. It has become explicit in the texts and the resolution of cases, for example to fight against climate change, make human beings effectively equal, force to be extraterritorially vigilant about suppliers.
Compliance Monumental Goals are targeted ex ante by regulations, contracts, CSR, and international treaties. Creating an alliance between business and political authorities, aiming for a new form of sovereignty. The presence in litigation of these Monumental Goals of global dimension renews the responsibilities and the Judge office. Describing and conceiving these Monumental Goals makes it possible to anticipate Compliance Law, which is more powerful every day.
____
📕 In parallel, a book in French Les Buts Monumentaux de la Compliance, is published in the collection "Régulations & Compliance" co-published by the Journal of Regulation & Compliance (JoRC) and Dalloz.
____
📅 This book follows a cycle of colloquia 2021 organized by the Journal of Regulation & Compliance (JoRC) and its universities partners.
____
📚 This book is inserted in this series created by Marie-Anne Frison-Roche for developing Compliance Law.
📚 read the presentations of the other books of this Compliance Series:
📘M.A. Frison-Roche (ed), Compliance Juridictionnalisation, 2022
📘M.-A. Frison-Roche (ed.), Compliance Tools, 2020
____
► go to the general presentation of this 📚Series ​Compliance & Regulation, conceived, founded et managed by Marie-Anne Frison-Roche, co-published par the Journal of Regulation & Compliance (JoRC) and Bruylant.
___
► General construction of the book:
The book opens with an Introduction, ​which proposes the Monumental Goals as definition of Compliance Law putting them at its "beating heart", giving this new branch of law its originality and specificity, explaining what, in the History of the United States and Europe, gave birth to this singular corpus and justifies a substantial definition of Compliance Law. The concept of Monumental Goals is explained, justifying both systemic and political nature of Compliance Law, the practical consequences of which legal specific rules are thus better identified and limited, since Compliance Law does not lead to all-obedience. We can then determine what we can expect from this Law of the Future that is Compliance Law.
From there, the book unfolds in 5 chapters.
A first chapter is devoted to the "radioscopy" of this notion, in itself and branch of Law by branch of Law.
A second chapter aims to measure how the Monumental Goals are questioned by a crisis situation, for example in a health situation, but not in that example, if they aggravate it and must be discarded, or if, on the contrary, they are exactly conceived for this hypothesis. of crisis, risks, catastrophes and that it is advisable to exploit them, in particular in order, in this "test", to benefit from the alliance between the political authorities, public powers and crucial operators.
Once made explicit and tested, the Monumental Goals must find a sure way to be taken into account. This is why a third chapter aims to measure in principle and in practice how the Proportionality method can help the integration of Compliance, thus giving a new dimension to the Law without dragging it into insecurity and illegitimate grabbing of powers.
But because Compliance Monumental Goals express a very great ambition, the question of a bearable, even beneficial relationship with the international competitiveness of companies, standards and systems must be opened. This is the object of the fourth chapter.
Finally, because the Monumental Goals express by nature a new ambition of the Law in a world which must not give up in what could be the prospect of its abyss, the fifth chapter has for object the relationship between the Monumental Goals of Compliance and Sovereignty.
____
► Table of Content :
INTRODUCTION
🕴️Frison-Roche, M.-A., 📝Compliance Monumental Goals, beating heart of Compliance Law
CHAPTER I. THE VERY IDEA OF MONUMENTAL GOALS, THE BEATING HEART OF COMPLIANCE LAW
🕴️Maistre, R.-O., 📝What monumental goals for the Regulator in a rapidly changing audiovisual and digital landscape? ;
🕴️Le Fur, A.-V., 📝Interest and "raison d'être" of the company: how do they fit with the Compliance Monumental Goals? ;;
🕴️Malaurie, M., 📝Monumental goals of Market Law. Reflection on the method
🕴️Peicuti, C. & 🕴️Beyssade, J.,📝The Feminization of Responsability positions in Companies as a Compliance Goal. Example of the banking sector
🕴️Petit, B., 📝The Arrangement of the Monumental Goals of Labor Law: a Moving and Often Paradoxical Whole
🕴️Vaquieri, J.-F.,📝 The "Monumental Goals" perceived by the company. The example of Enedis.
CHAPTER II. IMPLEMENTATION OF COMPLIANCE MONUMENTAL GOALS IN ARTICULATION OF THE MAJOR PRINCIPLE OF PROPORTIONALITY
🕴️Rapp, L., 📝Proportionality and Normativity
🕴️Bär-Bouyssière, B., 📝Practical obstacles to the effective place of Proportionality in Compliance
🕴️Meziani, L., 📝Proportionality in Compliance, the guarantee of public order in companies
🕴️Segonds, M., 📝Compliance, Proportionality and Sanction. The example of the sanctions taken by the French Anticorruption Agency
🕴️Frison-Roche, M.-A., 📝Definition of Proportionality and Definition of Compliance
CHAPTER III. COMPLIANCE MONUMENTAL GOALS TESTED BY CRISIS SITUATIONS
🕴️Oumedjkane, A., 🕴️Tehrani, A. & Idoux, P., 📝Public Norms and Compliance in times of Crisis: Monumental Goals tested: Elements for a Problematic
🕴️Bonnet, J., 📝The Crisis, an opportunity to seize Compliance as a Mode of Communication by Public Authorities
🕴️Frison-Roche, M.-A., 📝Role and Place of Companies in the Creation and Effectiveness of Compliance Law in Crisis
CHAPTER IV. EFFECTIVENESS OF COMPLIANCE MONUMENTAL GOALS AND INTERNATIONAL COMPETITIVENESS
🕴️Deffains, B., 📝The economic challenge of international competitiveness of Compliance
🕴️Marty, F., 📝The Case for Compliance Programs in International Competitiveness: A Competition Law and Economics Perspective
🕴️Frison-Roche, M.-A., 📝Assessment of Whistleblowing, and the obligation of Vigilance
CHAPTER V. COMPLIANCE SUPPORTED BY MONUMENTAL GOALS AND NEW WAY FO SOVEREIGNY
🕴️Bismuth, R., 📝Compliance and Sovereignty: ambiguous relationships
🕴️Pottier, S., 📝In favour of European compliance, a vehicle of economic and political assertion
________