pour lire cette présentation partiellement en français↗️ cliquer sur le drapeau français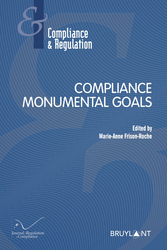 ► Full Reference: Segonds, M., Compliance, Proportionality and Sanction. The example of the sanctions taken by the French Anticorruption Agency, in Frison-Roche, M.-A. (ed.),Compliance Monumental Goals, series "Compliance & Regulation", Journal of Regulation & Compliance (JoRC) and Bruylant, to be published.
___
► Article Summary: Before devoting the developments of his article to the sole perspective of sanctions imposed under "Anti-corruption Compliance", the author recalls in a more general way that, as is the sanction, Compliance is in essence proportional: Proportionality is inherent to Compliance as it conditions any sanction, including a sanction imposed under Compliance.
This link between Proportionality and Compliance has been underlined by the French Anti-Corruption Agency (Agence française anticorruption - AFA) with regard to risk mapping, which must measure risks to arrive at effective and proportional measures. This same spirit of proportionality animates the recommendations of the AFA which are intended to apply according to the size of the company and its concrete organisation. It governs sanctions even more, in that punitive sanctions refer on one hand to Criminal Law, centered on the requirement of proportionality. Punitive sanctions It governs sanctions even more, in that punitive sanctions refer on the other hand to the disciplinary power of the manager who, from other sources of law, must integrate the legal requirement of proportionality when he/she applies external and internal compliance norms.
____
📘see the general presentation of the book, Compliance Monumental Goals, in which this article is published
_______