pour lire une présentation partiellement en français↗️ cliquer sur le drapeau français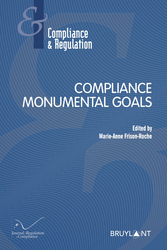 ► Full Reference: Vaquieri, J.-F., The "Monumental Goals" perceived by the company. The example of Enedis, in Frison-Roche, M.-A. (ed.),Compliance Monumental Goals, series "Compliance & Regulation", Journal of Regulation & Compliance (JoRC) and Bruylant, to be published.
___
► Article Summary: The article aims to show how a particular company in that it is charged by the State to effectively distribute electricity to everyone in France participates in the Monumental Goals, makes them concrete and integrates them into its functioning itself. The firm Enedis, a French monopolistic State company, operator of the distribution network participates directly in these Goals under the express application of the French Energy Code.
Under the control of the Regulator, the company is responsible for the continuity of the electricity supply and responds to the challenges of energy transition, Enedis ensuring equal treatment at national and local level, Compliance thus extending Regulatory system to which this firm responds and which it internalizes. The management of personal data, energy being at the heart of the digital revolution, implies a particularly strong internal framework of Compliance. This articulation between this new Compliance in terms of personal information and this classic Compliance as a continuation of the Regulation to serve the citizen, both converging for the benefit of people, explains that Enedis has put Compliance at the heart of its commitments, particularly expressed in its code of conduct, its industrial and human project (Projet industriel et humain - PIH) and its environmental actions.
The Compliance which is specific to Enedis is disseminated by it to various entities, in particular via concession contracts, giving these an original framework. This importance of Compliance for Enedis leads the company through the "Monumental Goals" which unite it to design and maintain balances between the diversity of these so that the values carried by the companies continue to decline, especially locally.
____
📝 see the general presentation of the book, Compliance Monumental Goals, in which this article is published
______