pour lire cette présentation en français↗️ cliquer sur le drapeau français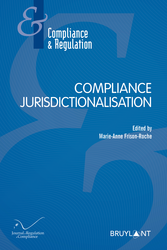 ► Full Reference: Frison-Roche, M.-A. (ed.), Compliance Jurisdictionalisation, series "Compliance & Regulation", Journal of Regulation & Compliance (JoRC) and Bruylant, 2022, to be published.
____
📅 This book is based on the 2021 colloquia organised by the Journal of Regulation & Compliance (JoRC) and its Universities partners.
____
► Read the presentation of the other books of this Collection:
📘 Frison-Roche, M.-A. (dir.), Compliance Monumental Goals, 2022 ;
📘 Frison-Roche, M.-A. (dir.), Compliance Tools, 2020.
____
► Book Summary: There have always been Judges and Lawyers in Compliance Law, in particular because this branch of Law is an extension of Regulatory Law in which they have a core place. This results from the fact that the decisions taken in respect of Compliance are contestable in Court, including Arbitration, those issued by the Company, such as those of States or Authorities, the Judge in turn becoming what Compliance Law is effective.
The novelty lies more in the phenomenon of "jurisdictionalization", that is to say that the trial model penetrates all Compliance Law, and not only the Ex Post part that it includes. Moreover, it seems that this jurisdictionalisation influences the non-legal dimension of Compliance. This movement has effects that must be measured and causes that must be understood. Advantages and disadvantages that must be balanced. If only to form an opinion vis-à-vis Companies that have become Prosecutors and Judges of themselves and others ...: encourage this "Jurisdictionalisation of Compliance", fight it, perhaps influence it? In any case, understand it!
____
► Read the first presentations of some articles of the book :
📝 Augagneur, L.-M., Reputational Treatment by and on the platforms
📝 Bavitot, A., Shaping the company through negotiated Criminal Justice Agreements
📝 Coulon, J.-M., How a company works to make Compliance Law a reality: the example of the construction sector
📝 ​Frison-Roche, M.-A., Never exclude Judges and Lawyers in Compliance Law
📝Frison-Roche, M.-A., The Judge-Judged ; articulating words and things in the face of the impossible conflict of interests
📝 Granier, C., The Jurisprudence of the Firms established as prosecutors and Judges of themselves by Compliance Law
📝Kessedjian, C., Arbitration serving the fight against Human Rights violations by Businesses
📝 Kleiman, E., The goals of compliance confronted to arbitration and its actors
📝 Lapp, Ch., How a Company works to make Compliance Law a reality: the statues of processes
📝 Siproudhis, J.-B., The transfer of responsibility from the regulator and the judge to the company: demonstration by the whistleblowing mechanism
📝Toe, S., L'application judiciaire des normes de la compliance en remède aux insuffisances des procédures collectives