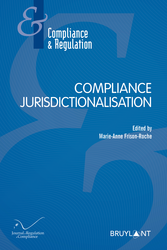 ► Full Reference: Frison-Roche, M.-A. (ed.), Compliance Jurisdictionalisation, series "Compliance & Regulation", Journal of Regulation & Compliance (JoRC) and Bruylant, 2022, to be published.
____
📅 This book is based on the 2021 colloquia organised by the Journal of Regulation & Compliance (JoRC) and its Universities partners.
____
► This book in few words: Sanctions, controls, appeals, deals: judges and lawyers are everywhere in the Compliance mechanisms, creating unprecedented situations, sometimes without a solution yet available. Even though Compliance was designed to avoid the judge and produce security by avoiding conflict. This jurisdictionalisation is therefore new. Forcing companies to prosecute and judge, a constrained role, perhaps against their nature. Leading to the adaptation of major procedural principles, with difficulty. Confronting arbitration with new perspectives. Putting the judge at heart, in mechanisms designed so that he is not there. How in practice to organize these opposites and anticipate the solutions? This is the challenge taken up by this book.
____
► Read the presentation of the other books of this Collection:
📘 Frison-Roche, M.-A. (dir.), Compliance Monumental Goals, 2022 ;
📘 Frison-Roche, M.-A. (dir.), Compliance Tools, 2020.
____
► Book Summary: There have always been Judges and Lawyers in Compliance Law, in particular because this branch of Law is an extension of Regulatory Law in which they have a core place. This results from the fact that the decisions taken in respect of Compliance are contestable in Court, including Arbitration, those issued by the Company, such as those of States or Authorities, the Judge in turn becoming what Compliance Law is effective.
The novelty lies more in the phenomenon of "jurisdictionalisation", that is to say that the trial model penetrates all Compliance Law, and not only the Ex Post part that it includes. Moreover, it seems that this jurisdictionalisation influences the non-legal dimension of Compliance. This movement has effects that must be measured and causes that must be understood. Advantages and disadvantages that must be balanced. If only to form an opinion vis-à-vis Companies that have become Prosecutors and Judges of themselves and others ...: encourage this "Jurisdictionalisation of Compliance", fight it, perhaps influence it? In any case, understand it!
____
First presentation of content
INTRODUCTION
🕴️​Frison-Roche, M.-A. 📝 ​Summary of the book Compliance Jurisdictionalisation
🕴️Frison-Roche, M.-A., 📝 ​Reinforce the Judge and the Attorney to impose Compliance Law as a characteristic of the Rule of Law
I. THE COMPANY ESTABLISHED PROSECUTOR AND JUDGE OF ITSELF BY COMPLIANCE LAW
🕴️Granier, C., 📝 ​The Jurisprudence of the Compagnies established as prosecutors and Judges of themselves by Compliance Law
🕴️Coulon, J.-M., 📝 ​How a company works to make Compliance Law a reality: the example of the construction sector
🕴️Lapp, Ch., 📝 ​How a Company works to make Compliance Law a reality: the statues of processes
🕴️Augagneur, L.-M., 📝 ​Reputational Treatment by and on the platforms
🕴️Bruneau, A., 📝 ​The way in which compagnies in the banking sector organize themselves and behave in order to fulfill their role as "prosecutor and judges of themselves"
🕴️Frison-Roche, M.-A., 📝 ​The Judge-Judged ; articulating words and things in the face of the impossible conflict of interests
🕴️Heymann, J., 📝 ​La nature juridique de la "Cour suprême" de Facebook
🕴️Lapp, Ch., 📝 ​How a Company works to make Compliance Law a reality: the statues of processes
🕴️Latour, D., 📝 ​Les enquêtes internes au sein des entreprises
🕴️Merabet, S., 📝 ​Etre juge et ne pas juger
🕴️Bavitot, A., 📝 ​Shaping the company through negotiated Criminal Justice Agreements
II. GENERAL PROCEDURAL LAW IN COMPLIANCE LAW
🕴️​Cayrol, N., 📝 ​General Procedural Law in Compliance Law
🕴️Frison-Roche, M.-A., 📝 ​Adjusting by the nature of things General Procedural Law to Compliance Law
🕴️Sillaman, B., 📝 ​Privilege and Cooperation: Procedural Lessons Learned from the U.S. for Global Application
🕴️Scemla, S.& Paillot, D., 📝 ​The supervisory Authorities face difficulties to apprehend the Rights of the Defense
🕴️Linden, A., 📝 ​Motivation and publicity of the decisions of the restricted committee of the French Personal Data Protection Commission (Commission nationale de l'informatique et des libertés-CNIL) in a compliance perspective
🕴️Schiller, S., 📝 ​A single judge in the event of an international breach of compliance obligations?
III. ARTICULATION BETWEEN COMPLIANCE LAW AND INTERNATIONAL ARBITRATION
🕴️Racine, J.-B., 📝 ​Compliance and Arbitration: Problematisation
🕴️Silva-Romero, E. & Legru, R., 📝 ​What places for Compliance in investment arbitration?
🕴️ Kleiman, E., 📝 ​The goals of compliance confronted to arbitration and its actors
🕴️​Audit, M., 📝 ​The position of the arbitrator in matters of Compliance
🕴️Jourdan-Marques, J., 📝 ​The arbitrator, ex ante judge of compliance?
🕴️Train, F.-X., 📝Arbitration and parallel proceedings exercised in Compliance Procedure
IV. THE JUDGE IN COMPLIANCE LAW
🕴️Frison-Roche, M.-A., 📝The judge, the compliance obligation, and the company. The Compliance probationary system
🕴️Morel-Maroger, J.,, 📝 ​Application of Compliance standards by EU Judges
🕴️Douvreleur, O., 📝 ​Compliance and Judge ruling only on points of Law
🕴️Wennerström, E., 📝 ​Some Reflections on Compliance and the European Court of Human Rights
________