pour lire cette présentation en français ↗️ cliquer sur le drapeau français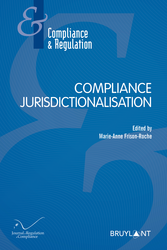 ► Full Reference: M. Audit, "The arbitrator's position on compliance", in M.-A. Frison-Roche (ed.), Compliance Jurisdictionalisation, Journal of Regulation & Compliance (JoRC) and Bruylant, coll. "Compliance & Regulation", to be published.
____
📘read a general presentation of the book, Compliance Jurisdictionalisation, in which this article is published
____
► The summary below describes an article that follows an intervention in the scientific manifestation Compliance et Arbitrage, co-organised by the Journal of Regulation & Compliance (JoRC) and the University Panthéon-Assas (Paris II). This conference was designed by Marie-Anne Frison-Roche and Jean-Baptiste Racine, scientific co-directors, and took place in Paris II University on March 31, 2021.
In the book, the article will be published in its Title III, devoted to: Compliance et Arbitrage.
____
► Summary of the article (done by the Journal of Regulation & Compliance): For the arbitrator to intervene in matters of Compliance, a "Compliance Obligation" must exist. The identification of this specific obligation is tricky because it cannot generally be identified per se, if it is grasped only through Criminal Law, which does not enter directly into the field of Arbitration, which has developed an autonomous conception of the facts, in particular facts of corruption, which are also criminally reproachable. But because the obligation of compliance is itself autonomous, since it is a question of detecting and preventing various offenses and breaches, the arbitrators rely on the detection and prevention mechanisms as such, distinct from the possible behaviors that the Law wants they don't happen.
But the question of the source of this compliance obligation is central because it must arise from a standard that can lead to Arbitration. This is the case of the contract, for example an intermediary contract which not only prohibits any corrupt practice but also provides for audit or control, or even the case of national laws, in particular the UK Bribery Act or the so-called French "Sapin 2" law, or even decisions imposing compliance programs or the unconstrained adoption of these by the company. According to its source, the arbitrator will take the Compliance obligation into account.
If a Compliance obligation, having a source giving its significance in an Arbitration proceeding, is considered by the arbitrator to be breached, the consequences often depend on this source. The solution is classic if it is the lex contractus, more difficult if it is a Law which has inserted this obligation in the lex societatis, the requirements of compliance being generally considered as mandatory laws. If the arbitrators cannot apply the sanctions attached by the repressive law, they can support their decision in consideration of the breach found to assess the legality of a behavior or the validity of a contract, the ICC Rules for combating corruption being able to serve them as an analysis guide.
____
🦉This article is available in full text to those registered for Professor Marie-Anne Frison-Roche's courses
________