To read this presentation totally in English, click on the British flag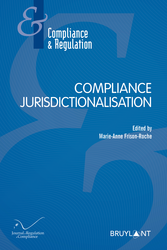 ► Full reference: Granier, C., The Jurisprudence of the Firms established as prosecutors and Judges of themselves by Compliance Law, in Frison-Roche, M.-A. (ed.), Compliance Jurisdictionalisation, series "Compliance & Regulation", Journal of Regulation & Compliance (JoRC) and Bruylant, to be published.
___
► Article Summary: (done par the author): Because Compliance shakes up established frameworks, Compliance forces to look at certain concepts in a new light, which until then seemed to be well tamed. This is particularly the case with the notion of "Jurisprudence". Recent developments in Compliance indeed raise questions about the possible existence of "jurisprudence" (case law) that would be produced by companies during the implementation of compliance procedures.
At first glance, the concept of "business jurisprudence" may appear unnatural because case law is traditionally understood as the fruit of the office of the Judge and, more particularly, of the State Judge. However, the observation that the company can position itself as a Judge with regard to itself and others in the context of the implementation of Compliance legitimately raises the question of the possibility for the latter. to produce case law. The example of Facebook's supervisory board and the first decisions rendered by this body increases the legitimacy of this crucial question.
Thinking about the concept of "Jurisprudence of companies" implies to compare the process of emergence of the case law standard emanating from the Judge with the process of emergence of a "Jurisprudence" that would be produced by companies during their "jurisdictional functions". On the material level, an analogy between State case law and company case law seems conceivable. It then remains to overcome an obstacle of an organic nature: can an institution other than the judge be understood as producing case law?
In view of contemporary developments in Law and the practical interest that exists in designing business case law, it seems appropriate to adopt a broader view of case law, which is detached from the traditional organic criterion. It therefore seems that it is possible but above all that it is necessary to think about the concept of "business case law" in order to highlight a new facet of the normative power of companies in the context of compliance, in particular with a view to its supervision.
___
📘 read the general presentation of the book, Compliance Jurisdictionalisation, in which this article is published.
________
.