pour lire cette présentation en français ↗️ cliquer sur le drapeau français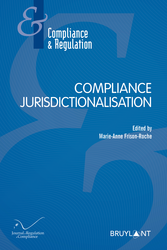 ► Full Reference: J.-M. Coulon, "Compliance Law in the construction industry and the contradictions, impossibilities and deadlocks that companies face", in M.-A. Frison-Roche (ed.), Compliance Jurisdictionalisation, Journal of Regulation & Compliance (JoRC) and Bruylant, coll. "Compliance & Regulation", to be published.
____
📘read a general presentation of the book, Compliance Jurisdictionalisation, in which this article is published
____
► The summary below describes an article following the colloquium The Entreprise instituted Judge and Prosecutor of itself by Compliance Law) , co-organized by the Journal of Regulation & Compliance (JoRC) and the Faculté de Droit Lyon 3. This manifestation was designed under the scientific direction of Marie-Anne Frison-Roche and Jean-Christophe Roda and took place in Lyon on June 23, 2021. During this colloquium, the intervention was shared with Christophe Lapp, who is also a contributor in the book (see the summary of the Christophe Lapp's Article).
In the book, the article will be published in Title I, devoted to: L'entreprise instituée Juge et Procureur d'elle-même par le Droit de la Compliance (The Entreprise instituted Judge and Prosecutor of itself by Compliance Law).
____
► Summary of the article (done by the author): The construction industry is not a regulated sector. Its market is made up of a superposition of territorial strata which are all relevant markets, to which corresponds a specific microcosm of companies. Finally, the temporary association between companies for the purposes of carrying out a project or a work is consubstantial with this sector.
The penetration of Compliance in this sector is inevitably very heterogeneous and results from both exogenous factors (other partners within temporary associations, influence of economic operators from other sectors of activity, capital providers and lender, incitations from professional organizations ) the endogenous (submission to a Financial Regulatory Authority because the company is listed ; application of the laws on duty of vigilance, and French Law called "Sapin 2"). For example, subject to all these factors combined, the Bouygues group is particularly sensitive to compliance.
Not only internal "legislator", the Bouygues group finds itself in turn "prosecutor and judge" both of itself and of others. Indeed, leading an investigation, filing a complaint, triggering an ethics alert, making use of the leniency program, this group is, however, no other than a sort of assistant for the Prosecutor. In addition, scrutinizing its stakeholders, sanctioning its employees, resorting to a Convention Judiciaire d'intérêt public (judicial agreement in the public interest) or negotiating its sanction within the framework of a procedure instituted by a multilateral bank, it fulfills the function of a judge. Legislator, prosecutor, judge, the Bouygues group is faced with a paradox, in a way encouraged to exercise "sovereignty", yet it does not benefit from the attributes attached to it or from the unwavering support of the competent Public Authorities.
____
🦉This article is available in full text to those registered for Professor Marie-Anne Frison-Roche's courses
________