pour lire cette présentation en français ↗️ cliquer sur le drapeau français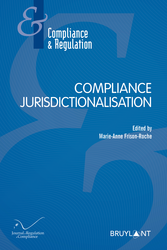 ► Full Reference: J. Heymann, "The Legal Nature of the Facebook "Supreme Court"", in M.-A. Frison-Roche (ed.), Compliance Jurisdictionalisation, Journal of Regulation & Compliance (JoRC) and Bruylant, coll. "Compliance & Regulation", to be published.
____
📘read a general presentation of the book, Compliance Jurisdictionalisation, in which this article is published
____
► Summary of the article (done par the Author): Taking place in the general theme aiming at making "words and things coincide", the article offers some thoughts on the "conditions of the discourse" – in the sense in which Foucault understood it in his Archéologie des sciences humaines – relating to the phenomenon of "jurisdictionalization" of Compliance.
The thoughts are more specifically focusing on the nature of the so-called "Supreme Court" that Facebook instituted to hear appeals of decisions relating to content on the digital social networks that are Facebook and Instagram. Is this really a "Supreme Court", designed in order to "judge" the Facebook Group?
A careful examination of the Oversight Board – i.e. the so-called "Supreme Court" created by Facebook – reveals that the latter, in addition to its advisory mission (which consists of issuing policy advisory opinions on Facebook's content policies), exercises some form of adjudicative function. This is essentially conceived in terms of compliance assessment, of the content published on the social networks Facebook or Instagram with the standards issued by these corporations on the one hand, of content enforcement decisions taken by Facebook with the Law on the other hand. The legal framework of reference is yet rather vague, although its substantial content seems to be per se evolutive, based on the geographical realm where the case to be reviewed is located. An adjudicative function can therefore be characterized, even if the Oversight Board can only claim for a limited one.
The author can ultimately identify the Oversight Board as a preventive dispute settlement body, in the sense that it seems to aim at avoiding any referral to state courts and ruling before any court's judgement can be delivered. Some questions are thus to be raised, relating with both legitimacy and authority of such a Board. But whatever the answers will be, the fact remains that the creation of the Oversight Board by a private law company already reveals all the liveliness of contemporary legal pluralism.
____
🦉This article is available in full text to those registered for Professor Marie-Anne Frison-Roche's courses
_________