pour lire cette présentation en français ↗️ cliquer sur le drapeau français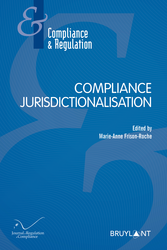 ► Full Reference: E. Wennerström, "Some Reflections on Compliance and the European Court of Human Rights", in M.-A. Frison-Roche (ed.), Compliance Jurisdictionalisation, Journal of Regulation & Compliance (JoRC) and Bruylant, coll. "Compliance & Regulation", to be published.
____
📘read a general presentation of the book, Compliance Jurisdictionalisation, in which this article is published
____
► Summary of the article (done by the Journal of Regulation & Compliance): The development of the European Court of Human Rights case law, contributing to European integration, has incorporated the substantial concept of ​​"compliance" which goes beyond the idea of ​​legality with respect to which companies remain passive, and promotes legal orders as systems in interaction with one another.
The author develops the spirit and scope of Protocol 15 by which both the principle of subsidiarity and the margins of appreciation the signatory States are organized, mechanisms governed by the principle of proportionality. Subsidiarity means that the States are in the best position to design the most adequate application of the Convention, the close links between the States allowing its effective application. In addition, the new opinion procedure which allows a national court to have during a case the non-binding opinion of the ECHR ensures better compliance with the objectives of the Convention.
The case-law of the Court takes up this substantial requirement through its doctrine, in particular identified in the Bosphorus case, by stressing that the accession of a State to the European Union presumes its compliance when implementing EU law with the obligations arising from the ECHR, even if this presumption can be refuted if the protection is manifestly lacking, which was admitted in several cases, in particular concerning the right to an impartial tribunal in matters of economic regulation. The different legal orders are thus articulated.
The author concludes that the European Court of Human Rights, like the Court of Justice of the Union, contributes to the construction of Compliance Law in Europe, from an Ex Ante perspective favoring opinions rather than Ex Post sanctions and creating, in particular through the Bosphorus doctrine, elements of security and confidence for European integration around common values.
___
🦉This article is available in full text to those registered for Professor Marie-Anne Frison-Roche's courses
________