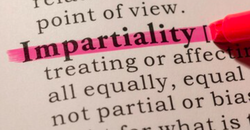 Full reference: Frison-Roche, M.-A., Regulators'​ Impartiality and contents control: "Les infidèles"​ case, Newsletter MAFR - Law, Compliance, Regulation, 19th of August 2020
Read by freely subscribing the other news of the Newsletter MAFR - Law, Compliance, Regulation
To go further, read the chapter of the book Compliance Tools: "The geographical pregnancy ​of Compliance tools" opened by an introductive chapter written by Jean-Baptiste Racine
Summary of the news
Impartiality of the regulator is one of the most important principles of Regulation and Compliance Law. However, this impartiality can be difficult to implement when the regulation object has a strong moral dimension.
In August 2020, various religious associations sized the Conseil National de Régulation de l'Audiovisuel sénégalais (Senegalese audiovisual regulatory authority) to ask the interdiction of broadcasting on television of the film "Les infidèles" telling the story of a married woman with multiple lovers.
First, the regulator distinguishes the sequences likely to be detrimental to cultural and religious identities and shocking sequences or likely to attack the dignity of the person. Then, it asks the deletion of indecent and obscene scenes and of scenes likely to be detrimental to cultural and religious identities, bans the broadcasting of the film in the television before 10.30 pm, asks an update of the trailer and requires the introduction of a pictogram "forbidden to children under 16" during the broadcasting. The CNRA judges itself able to regulate the content of telefilms in order to protect cultural identities with regards to the law of 4th of January setting its mission.
In 2012, a similar controversy surrounded, in France, the broadcasting of a different film with the same name. However, the purpose and the context were very different because the film was broadcasted at cinema, because it presented adultery men, because it was comic, because the competent regulator was not an administrative body but a professional body and because the broadcasting country was not the same. Here, only the poster was modified.
Thus, an impartial regulation must however taking into consideration "local cultural identities".