Pour lire la presentation en français de l'ouvrage publié en français, cliquer sur le drapeau français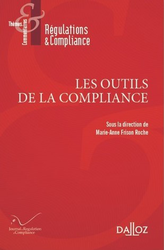 Reference : Frison-Roche, M.-A. (ed.), Compliance Tools, Serie Régulations & Compliance, to be published.
Simultaneously, the book written in French, Les outils de la Compliance will be published.
Presentation of the book
Compliance Law is by nature teleological, that is to say, takes its meaning from the goals it pursues, which are "monumental": fight against corruption, money laundering, terrorism, climate change, market abuse ; promotion of equality, protection of nature, respect for human beings, protection of persons in a situation of weakness. It therefore imposes the structural and Ex Ante implementation of effective and efficient "tools".
These tools are very diverse, not only among themselves but according to the sectors in which they are deployed or according to the geographical areas in which they are applied. It is necessary to apprehend them by going beyond the description of the instrument literally shown, as the texts or the promoters of the various technologies show it, without immediately going up to too general considerations.
Following a series of conferences for the design and conduct of which many academic institutions have joined the Journal of Regulation & Compliance (JoRC), the book includes studies that focus on well-identified specific mechanisms, such as risks mapping, whistleblower mechanism or blockchain. Others take as subject the way in which Compliance Law uses these tools to reach its ends, such as incentive, education, or the machines that many say "smart", and balance between technology and culture.
Because even if we are in Civil Law or Common Law systems, which is not enough to describe all legal rules applied in the world, we must always articulate the "Compliance tools" between themselves, while they have been often thought out and applied isolated from each other ... It is to remedy the practical problems which result from it that this book aims to capture, to restore, to qualify and to theorize the "Compliance tools".
_______
See the other books published in the serie Régulations & Compliance.