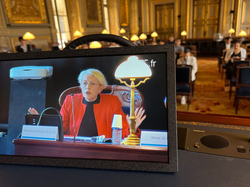 ♾️follow Marie-Anne Frison-Roche on LinkedIn
♾️subscribe to the Newsletter MAFR Regulation, Compliance, Law
____
► Full Reference: M.-A. Frison-Roche, "Compliance, Artificial Intelligence and Business Management: the right measure" ("Compliance, Intelligence artificielle et gestion des entreprises : la juste mesure"), participation to the Conference coordinated by Mustapha Mekki, L'intelligence artificielle et la gestion des entreprises. July 1st, 2022.
____
🎥 see the conference (in French)
____
consult the slides having been used as brief notes for deliver the lecture (inf French)
____
🚧read the bilingual Working Paper having been used as basis for this conference
____
📝This work will be the basis for an article.
____
► Summary of the Lecture: Of the next European Regulation on artificial intelligence, the European Commission has a quite neutral conception of AI for obtaining a consensus between the Member States, while the Regulators and certain States have a more substantial conception of technology, wanting its power to be used to protect people, firstly from these new tools themselves, secondly from what is an amplification of the evils of the classic world, such as hate or misinformation. This is the reflection of two conceptions of Compliance.
Firstly, Compliance can be defined as neutral processes that increase the effectiveness of what would be the obligation for companies or their desire for efficient risk management (in particular the consideration of "legal risks") to prove being "conform" to all regulations that are applicable to itself and all persons to whom the firm is accountable. This is often referred to as the "compliance obligation" or "obligation of conformity".
This conception implies considerable practical consequences for the company which, in order to succeed in this "total exploit", would then have to resort to artificial intelligence tools constituting a "total and infallible solution", which mechanically generate for it the obligation to "know " all the "regulatory mass", to detect all "non-compliances", to conceive its relationship to the Law in terms of "risk of non-compliance", fully supported by Compliance by Design which could, without human intervention , eliminate legal risk and ensure "compliance total efficiency" in Ex Ante.
The "legal price" of this technological dream is extremely high because all the "regulatory" requirements will then be transformed into obligations of result, any failure generating liability. The Compliance probationary system will become overwhelming for the company, both in terms of burden of proof, means of proof, and transfers, without exemption from proof. Objective responsibilities for others will multiply. The "law of conformity" will multiply Ex Ante systemic penalties, the border with criminal law being less and less preserved.
It is essential to avoid this, both for businesses and for the Rule of Law. For this, we must use Artificial Intelligence to its proper extent: it may constitute a "massive aid", without ever claiming to be a total and infallible solution, because it is the human who must be at the center of the compliance system functioning thank to the firms and not the machinery.
For this, it is necessary to adopt a substantial conception of Compliance Law (and not a sort of Conformity Law or Obedience Law). It does not at all cover all the applicable regulations and it is not at all "neutral", being in no way a series of processes. This new branch of Law is substantially built on Monumental Goals. These are either of a negative nature (preventing a systemic crisis from happening, in many but specific perspectives: banking, financial, health, climate, etc.), or of a positive nature (building a better balance, in particular between human beings, in the company and beyond).
In this conception which appears more and more strongly, artificial intelligence finds its place, more modest. As Compliance Law is based on information, Artificial Intelligence is essential to capture it and make first connections, first stages for successive analyses, done by human beings, making what is essential: the commitment of the company, both by the leaders and by all those who are "embarked" by a "culture of Compliance" which is at both built and common.
This restores the required seal between Criminal Law and what can be asked of the mechanical use of Artificial Intelligence; this puts the obligation of means back as a principle. This restores the principal place to the lawyer and the compliance officer, so that the culture of compliance is articulated with the specificities of a sector and the identity of the company itself. Indeed, the culture of compliance being inseparable from a culture of values, Compliance by design requires a dual technique, both mathematical and legal culture. It is why European Compliance Law, because it is rooted in the European humanist tradition, is a model.
________
For further:
📘Frison-Roche, M.-A. (ed.), Compliance Monumental Goals, 2022
📘Frison-Roche, M.-A. (ed.), Compliance Jurisdictionalisation, 2022
📘Frison-Roche, M.-A. (ed.), Compliance Tools, 2021
📓Frison-Roche, M.-A., L'apport du Droit de la Compliance à la Gouvernance d'Internet, 2019
📕Frison-Roche, M.-A. (ed.), Pour une Europe de la Compliance, 2019
📕Frison-Roche, M.-A. (ed.), Régulation, Supervision, Compliance, 2017
📕 Frison-Roche, M.-A. (ed.), Internet, espace d'interrégulation, 2016
📝 Frison-Roche, M.-A., Compliance Monumental Goals, beating heart of Compliance law, 2022,
📝 Frison-Roche, M.-A., Role and Place of Companies in the Creation and Effectiveness of Compliance Law in Crisis, 2022
📝 Frison-Roche, M.-A., Assessment of Whistleblowing, and the duty of Vigilance, 2022
📝Frison-Roche, M.-A., Drawing up Risk Maps as an obligation and the paradox of he "compliance risks", 2021
__________