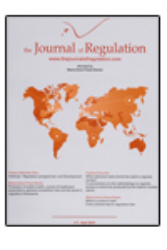 Référence complète : FRISON-ROCHE, Marie-Anne, "Corporate Law seen through the prism of Regulatory Law", The Journal of Regulation, 2010, I-I.6, p 88-102
L'article est en langue anglaise.
Le droit des sociétés a été analysé comme l'instrument par lequel l'entrepreneur obtient des financements, en offrant aux capitalistes une responsabilité limitée. Cette vision instrumentale est partagée par ceux qui voient dans la forme sociétaire le moyen technique par lequel l'entreprise entre dans le commerce juridique. Mais le droit des sociétés devient directement appréhendé par le droit de la régulation lorsqu'il intègre la notion et le fait essentiel des conflits d'intérêt entre managers et actionnaires, majoritaires et minoritaires. Le système les combat ou les gère par le droit de la régulation, qui met en balance ces intérêts en se détournant de l'illusion d'un intérêt commun, qu'il s'agisse d'un âge d'or du contrat de société ou d'une ambition du capitalisme classique. Le marché financier peut lui aussi n'apparaître que comme un mode de financement de l'entreprise. Mais il représente en réalité l'actionnaire minoritaire et l'autorité de régulation, par d'autres pouvoirs que celui du droit de vote, finit par s'installer à la table des conseils d'administration. L'interaction entre la régulation des marchés financiers et la "corporate governance" n'en est encore qu'à ses débuts.