pour lire cette présentation en français↗️cliquer sur le drapeau français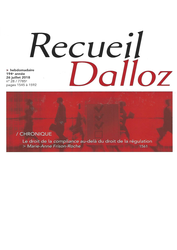 Full reference : Frison-Roche, M.-A., Le Droit de la Compliance au-delà du Droit de la Régulation, Recueil Dalloz, 2018, chronique, pp. 1561-1563.
Summary : A movement started from precise legal requirements linked to identified actors, as the financial or banking sector, to transform itself in legal norms of Compliance. Compliance Law is thus the extension of Regulation Law. But Compliance Law is taking its full autonomy with regards with Regulation Law, while retaining its violence, its radicalisé, and even its archaism, even though it concerns companies which do not act on regulated sectors, putting down, for instance, notions linked to territoriality (I). How companies should react face to this unequaled news (II)?
Read the table of contents of the Review (in French).
This document is based on a working paper with footnotes, technical references and hypertext links.