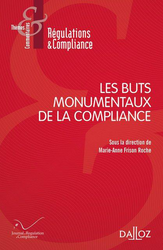 ► Référence complète : Lochmann, S., Les agences de notation ESG et l'effectivité de la Compliance face à la Compétitivité internationale, in Frison-Roche, M.-A. (dir.), Les buts monumentaux de la Compliance, série "Régulations & Compliance", Journal of Regulation & Compliance (JoRC) et Dalloz, à paraître.
___
► Résumé de l'article (fait par le Journal of Regulation & Compliance): Cet article a pour objet de montrer que les marchés, ceux qui y apportent des financements et ceux qui y puisent ceux-ci ayant besoin d'information sur la dimension environnementale, sociale et de gouvernance des entreprises impliquées, les agences de notations ESG sont des entreprises qui concourent à la performance globale du système et convergent aux buts monumentaux qui animent le Droit de la Compliance.
Dans cette perspective et prenant comme exemple concret Moody's, l'article expose tout d'abord le rôle joué par une agence de notation ESG et sa méthodologie d'évaluation, notamment les critères retenus la façon dont les entreprises informent les marchés et les parties prenants en la matière, notamment à propos du climat, convergeant en cela avec les Autorités publiques et avec les différents textes internationaux, traités et textes de droit souple qui se succèdent.
Cette convergence entre l'activité des agences de notation ESG et le Droit de la compliance en ce qu'il s'organise normativement autour de Buts Monumentaux est particulièrement marqué dans l'organisation d'une "transition juste", l'activité de l'agence s'insérant dans la construction des textes européens. Il apparaît ainsi que l'écosystème de l'investissement ESG est en pleine évolution, impliquant une pleine collaboration entre tous les participants de l'industrie du financement pour un financement durable et, in fine, la permanence de la démocratie.
____
📝 Consulter une présentation générale du livre, 📕Les Buts Monumentaux de la Compliance, dans lequel cet article s'insère.
_______
​