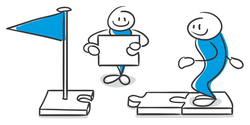 In Europe, Community Law prohibits States from providing aid to companies, which are analyzed as means for the benefit of their country which the State cares about (and sometimes wrongly) having the effect and maybe the object of maintaining or constructing borders between peoples, thus contradicting the first European political project of a common area of peace and exchanges between the peoples of Europe. That is why this prohibition does not exist in the United States, since Antitrust Law is not intended to build such a space, which is already available to businesses and people.
This essential difference between the two zones changes industrial policies because the US federal Government can help sectors where Member States can not. The European prohibition of State Aid can not be called into question because it is associated with the political project of Europe. This seems to be an aporia since Europe is handicapped against the United States.
In any form it takes, Aid is prohibited because it distorts equality of opportunity in competition between operators in the markets and constitutes a fundamental obstacle to the construction of a unified European internal market. On the basis of this simple principle, a branch of technical and specific law has developed, because States continue to support their entreprises and sectors, and many rules and cases divide this principe of prohibition into as many exceptions and nuances. Is built over the years a probation system related to it. Thus, the concept of a public enterprise was able to remain despite this principle of prohibition.
But if there is a crisis of such a nature or magnitude that the market does not succeed by its own forces to overcome and / or the European Union itself pursues a-competitive objectives, exogenous Regulation, which can then take the form of legitimate State Aid. Thus a sort of synonymy exists between State Aid and Regulation.
For this reason, the European institutions have asserted that State Aid becomes lawful when it intervenes either in strategic sectors, such as energy production in which the State must retain its power over assets, or the defense sector. Far from diminishing, this hypothesis is increasing. European Union Law also allows the State to intervene by lending to financial operators threatened with default or already failing, the State whose function is to fight systemic risk, directly or through its Central Bank. The aid can come from the European Central Bank itself helping States in issuing sovereign debt, the Court of Justice having admitted in 2015 the non-conventional monetary policy programs compliance with the treaties. In 2010, the European Commissioner for Competition stressed that public aid is essential tools for States to deal with crises, before regulations come to the fore in 2014 to lay the foundations of the European Banking Union.