pour lire la présentation de cet article en français↗️cliquer sur le drapeau français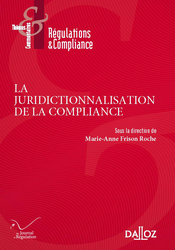 ► Full Reference: Bavitot, A., C., Le façonnage de l'entreprise par les accords de justice pénale négociée (("Shaping the company through negotiated Criminal Justice Agreements"), in Frison-Roche, M.-A. (dir.), La juridictionnalisation de la Compliance, série "Régulations & Compliance", Journal of Regulation & Compliance (JoRC) et Dalloz, à paraître.
___
► Article Summary (done by the author): Negotiated justice is "the situation in which the criminal conflict is the object of a trade in the etymological sense of the term negotio, i.e. a debate between the parties to reach an agreement".
Thus, the French legislator has succumbed to globalized mimicry by creating the Convention judiciaire d'intérêt public (Public Interest Judicial Agreement), first in matters of probity and then in environmental matters. What is the nature of this deal of justice? Validated by a judge's order, it does not entail any declaration of guilt, has neither the nature nor the effects of a judgment of conviction and is not registered in the judicial record. Possible at the investigation stage as well as at the pre-trial stage, the Public Interest Judicial Agreement is original in that it makes it possible to avoid either the prosecutor's proceedings or the judge's wrath.
A detailed study of the agreements signed shows that in order to negotiate in the best possible way, the company can and must shape itself. The company will shape the facts of its agreement, shape its charge and, finally, shape its sentence. The article offers a concrete analysis of these three dimensions of corporate shaping to better approach understanding the legal nature of negotiated criminal justice agreements.
____
📝 Consulter une présentation générale du volume dans lequel l'article est publié.
________