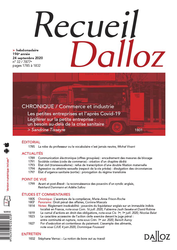 Full Reference: Frison-Roche, M.-A., L'aventure du Droit de la Compliance ("The Adventure of Compliance Law"), Chronique de Droit de la Compliance ("Chronicles MAFR - Compliance Law"), Recueil Dalloz, September 24, 2020.
Read the Chronicle (in French)
This Chronicle of Compliance Law is based on a bilingual working document with additional developments, technical references and hypertext links.
Read the Working Paper (written in English).
____
Chronicle Summary:
Compliance Law is an "adventure" in that it is a new branch of Law, anchored in Regulatory Law, which has freed itself from it while retaining the major principles to which it gives a new breath.
In the same way that I entered Sciences Po in 2000 to create a Master de Droit économique centered around Regulation Law, this new branch of Law, a Forum de la Régulation and a Chaire Régulation, now "20 ans après" and as in any adventure, the objective is to give solid, coherent and substantial bases to this Compliance Law which is practiced intensely without being fully conceived.
Compliance should not be reduced to a procedure of effectiveness and efficiency of other rules, such as Competition Law or Criminal Law, a sort of enforcement process going from the Ex Post to the Ex Ante, because that would be both too little (simply processes) and too much (the power of Compliance Law in the service of all rules, the violence of Compliance being able to serve in very violent Substantial Law itself, which one can observe in some legal systems).
It is necessary to anchor all this new branch of Law in goals, this Law being teleological in nature as is the Law of Regulation. These goals are "monumental", by which the public authorities express still, and more now than in the past, "pretensions", such as the protection of the environment or of people even if they are distant from the territory on which they have traditionally taken.
All these "monumental goals" converge towards a goal that encompasses them all: the protection of the person, which justifies the unusual power of legal Compliance mechanisms and the new relationship between States and "crucial operators". In this, Europe is exemplary of what could be this new branch of Law of which it bears the model.
______