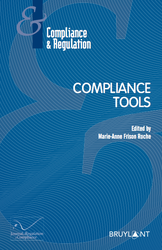 Full Reference : Frison-Roche, M.-A..,Rights, primary and natural Compliance Tools, in Frison-Roche, M.-A. (ed.), Compliance Tools, series "Régulations & Compliance", Journal of Regulation & Compliance (JoRC) and Bruylant, 2021, p. 319-342
___
Article Summary: In the traditional conception of the architecture of the sectors regulated by Law, and in Compliance Law which extends the regulatory techniques, rights have little place. But this configuration no longer takes place; on the contrary, rights are at the center of Regulatory and Compliance systems, and will be more and more so. They are and will be the primary tools of Compliance Law because they constitute a very effective "tool" to ensure the entire functioning of a system whose goals are so difficult to achieve. Because every effort must be done to achieve these goals, the public authorities not only rely on the power of crucial operators, but also distribute prerogatives to people and organizations who, thus encouraged, activate the Compliance system and participate in the achievement of the "monumental goal". Rights can prove to be the most effective tools for actually achieving the goals set, so much so that they can be seen as "primary tools".
But it is pertinent to have more pretension and to conceive rights as the most "natural" tools of Compliance Law. Indeed because all the Monumental Goals by which Compliance Law is defined can be expressed by the protection of persons, that is to say to the effectiveness of their prerogatives, by a mirror effect between rights. given as tools by Law by to persons and rights which constitute the very goal of all Compliance Law, in particular the protection of all human beings, even if they are in a situation of great weakness, rights becoming a "natural tool" of Compliance Law.
We are only at the beginning of their deployment and it is undoubtedly on them that Digital space in which we now live would be regulated, so that we will not suffocated there and that it will constitute for people a civilized space.
____
Read the bilingual working paper, with additional developments, technical references and hyperlinks, on which this article is based
Read the General Presentation of the book in which this article has been published
____