Pour lire cette présentation en française, cliquer sur le drapeau français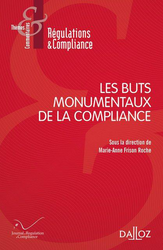 ► Full Reference: Oumedjkane, A., Tehrani, A. & Idoux, P., Normes publiques et Compliance en temps de crise : les Buts Monumentaux à l'épreuve. Eléments pour une problématique "Public Norms and Compliance in times of Crisis: Monumental Goals tested: Elements for a Problematic, in Frison-Roche, M.-A. (ed.), Les buts monumentaux de la Compliance, série "Régulations & Compliance", Journal of Regulation & Compliance (JoRC) and Dalloz, to be published.
► Article Summary (done by the authors): In this article Compliance refers to the fact that large private companies, through internal systems for compliance with public legal norms, partly take charge of the achievement of goals set by public authorities, which they cannot pursue alone (good functioning of financial markets, environmental protection, fight against corruption, etc.). Si If outside a period of crisis the need to maintain a close link between public legal norms and compliance techniques has been established for the achievement of these "monumental goals", the validity of the analysis must be verified in a time of crisis. Indeed, in order to get out of the troubled period as quickly as possible, it is tempting to rely above all on public authorities.
In the light of the health crisis, the possibility that the link between public legal norms and compliance techniques may be altered in times of crisis must therefore be considered. Not only is the normative reaction of the public authorities during this period proving to be very intense, but in addition, certain characteristics of compliance technique could lead to doubt that it is in any case a relevant tool in an emergency and instability context. However and under study, to achieve the Monumental Goals, it appears necessary to maintain the link between public legal norms and compliance. This link has been preserved, even at the height of the health crisis, and it must undoubtedly be also beyond, because its rupture presents risks which are not specific to this crisis. In other words, compliance, despite its shortcomings, probably does not lose its strengths in times of crisis.
____
📕 read the general presentation of the book