OUMEDJKANE, Antoine🕴️, TEHRANI, Adrien🕴️ et IDOUX, Pascale🕴️
Pour lire cette présentation en française ↗️ cliquer sur le drapeau français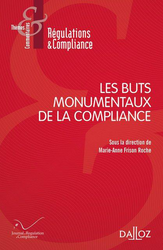 ► Full Reference: Oumedjkane, A., Tehrani, A. & Idoux, P., Normes publiques et Compliance en temps de crise : les Buts Monumentaux à l'épreuve. Eléments pour une problématique "Public Norms and Compliance in times of Crisis: Monumental Goals tested: Elements for a Problematic, in Frison-Roche, M.-A. (ed.), Les buts monumentaux de la Compliance, série "Régulations & Compliance", Journal of Regulation & Compliance (JoRC) and Dalloz, p.275-295..
____
► Article Summary (done by the authors): In this paper, compliance refers to the fact that large private firms, through internal procedures designed to abide by public norms, participate in achieving the goals set out by public authorities, as the latter cannot reach those goals without help (proper functioning of financial markets, environment protection, fight against the corruption…). While in times outside a crisis period, the need to maintain a close link between public norms and compliance to achieve those "monumental goals" has been established, the validity of this analysis must be assessed during crisis periods. Indeed, to put an end to the turmoil as soon as possible, it is tempting to rely primarily on public authorities.
Should then be studied, in the light of the health crisis, the possibility that the link between public norms and compliance be altered in times of crisis. Not only is the normative reaction of public authorities very intense during the period, but some features of the compliance could lead one to think that compliance is in no way useful in a context of emergency and instability. This paper nevertheless suggests that to achieve monumental goals, it is necessary to maintain a close link between public norms and compliance. Such a link was maintained indeed, even at the height of the health crisis, and this should probably also be the case beyond this period, as breaking the link involves some risks which are not specific to the current health crisis. In other words, despite its shortcomings, compliance may not lose all its assets in times of crisis.
____
📕 read the general presentation of the book