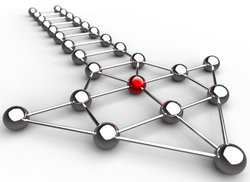 Full reference: Frison-Roche, M.-A., Can Coordination between local Regulators replace a unique centralized Regulator? Example of the European organisation of the Open Internet Principle, Newsletter MAFR - Law, Compliance, Regulation, 18th of August 2020
Read, by freely subscribing, the other news of the Newsletter MAFR - Law, Compliance, Regulation
To go further, read Marie-Anne Frison-Roche's article: The hypothesis of interregulation
Summary of the news
The principle of "open internet" enshrined in the European regulation of 30th of April 2016 guaranteeing a non discriminatory access to Internet contents and services. However, there is no European regulator to implement such a principle. Is it possible to guarantee the effectivity of this principle without a central regulator in charge of this principle?
On 11st of June 2020, the BEREC (Body of European Regulators for Electronic Communications) adopted guidelines concerning the application of the open internet principle. The BEREC is not a European regulator but a network of national regulators aiming to coordinate their actions. This body is only a consultative body but its recommendations are taken into account by national authorities which have deep legal power, as Osborne-Clarke said about the technical implementation of the European principle of open internet at the national level.
It is thus non necessary to have a central regulator to ensure the effectivity of a principle since the moment when there is a local regulators network able to coordinate their actions through soft law.