pour lire cette présentation en français↗️ cliquer sur le drapeau français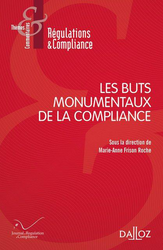 ► Full Reference: Malaurie, M., Les buts monumentaux du droit du marché. Réflexion sur la méthode, in Frison-Roche, M.-A. (dir.), Les buts monumentaux de la Compliance, série "Régulations & Compliance", Journal of Regulation & Compliance (JoRC) and Dalloz, to be published.
___
► English Summary of the Article (done by the Journal of Regulation & Compliance): The analysis done by this article is about Competition Law, and the methodology needed to be adopted for the technical functioning of this branch of Law. Taking up the various economic and legal theories on this subject, conceptions which have succeeded and clashed, the author develops that the monumental goal of Market Law is to develop an economic environment favorable to businesses and consumers, then asks the question if it could integrate an ethical dimension and more broadly non-economic considerations, in particular humanistic ones.
____
📕go to the general presentation of the book, Les Buts Monumentaux de la Compliance, in which this article is published.
______