article in a collective publication
pour lire cette présentation en français ↗️ cliquer sur le drapeau français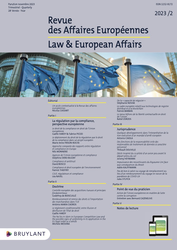 🌐follow Marie-Anne Frison-Roche on LinkedIn
🌐subscribe to the Newsletter MAFR Regulation, Compliance, Law
____
► Full Reference: M.-A. Frison-Roche, "The deployment of Regulatory Law through Compliance Law in the European project", in G. Hardy & F. Picod, Compliance Regulation from a European Perspective, Law and European Affairs (L.E.A.), 2023/2, pp. 345-352.
____
🚧read the bilingual Working Paper which is the basis of this article, with additional developments, technical references and hyperlinks
____
► English Summary of the article: Compliance Law is neither a method of obeying regulations, nor a simple neutral method of ensuring the effectiveness of norms, nor a means of enforcement displaced from Ex Post to Ex Ante. It is an extension of Regulatory Law and goes beyond it. Like it, it aims to build spaces according to a political project specific to an area, such as Europe. Branch of Law looking to the future as Regulatory Law does, it constructs and maintains, in a systemic way, sustainable, albeit unstable, balances to achieve the 'Monumental Goals' in which its normativity resides: security, sustainability, probity, truth, and dignity. By internalising these Monumental Goals in the companies that are in a position to achieve them, the "crucial companies", Compliance Law preserves the logic of Regulatory Law, offering it a prodigious expansion since it frees it from the condi- tion of a sector and territorial borders, which seemed tautological, by associating private powers and public will, which remains primary. In this way, Compliance can regulate the digital space and climate issue through political choices made by a sovereign Europe.
________