MOREL-MAROGER, Juliette🕴️
pour lire cette présentation en français ↗️cliquer sur le drapeau français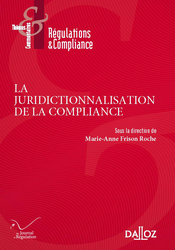 ► Full Reference: J. Morel-Maroger, "La réception des normes de la compliance par les juges de l'Union européenne" ("Application of compliance standards by EU judges"), in M.-A. Frison-Roche (ed.), La juridictionnalisation de la Compliance, coll. "Régulations & Compliance", Journal of Regulation & Compliance (JoRC) and Dalloz, 2023, p. 443-452.
____
📕read a general presentation of the book, La juridictionnalisation de la Compliance, in which this article is published
____
► Summary of the article (done by the author): Compliance rules are intended to pursue objectives of public interest – or monumental goals – and thereby in principle modify and guide the behaviour of economic operators. In order to achieve these objectives, the full spectrum of norms are used in compliance matters. What is and what should be the role of the judges of the European Union in the development of compliance rules ? As in domestic law, the legality of compliance standards developed by regulatory authorities has been challenged.
It will first be necessary to analyse what control the judges of the European Union have over these rules. The question arises essentially as regards the rules of soft law, the challenge of which can be considered in two ways : by way of an action for annulment and by exception by way of a preliminary ruling.
But beyond the control of the legality of compliance rules exercised by European judges, they also contribute to their application. The effectiveness of compliance rules depend above all on them being followed by those to whom they are addressed, and economic operators are undoubtedly the first actors of its success. But the judges of the European Union, competent to settle disputes concerning the application of European Union law between the Member States, the European institutions, and individual applicants, may be also be involved in ensuring the effectiveness of European compliance rules and in interpreting them.
________