LA GARANDERIE, Dominique de la🕴️
pour lire cette présentation en français ↗️ click on the British flag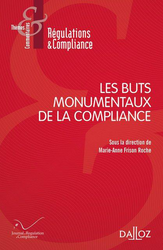 ► Référence complète : La Garanderie, D. de, Sur les buts monumentaux de la compliance sociale, in Frison-Roche, M.-A. (dir.), Les buts monumentaux de la Compliance, série "Régulations & Compliance", Journal of Regulation & Compliance (JoRC) et Dalloz, à paraître.
___
► Résumé de l'article (fait par le Journal of Regulation & Compliance ): L'article montre dans un premier temps que le droit social contribue à la construction des buts monumentaux en ce qu'il exprime directement dans une société humaine la volonté de construction comme pour une cathédrale les droits de chacun, la compliance pouvant en constituer le ciment.
Dans un second temps, l'auteur prend comme exemples démonstratifs de cela la façon dont les techniques de compliance a fait effectivement progresser dans et par les entreprises le principe d'égalité entre les hommes et les femmes via le droit du travail, a amélioré les conditions de santé et de sécurité, la lutte contre le harcèlement, a mis en place le devoir de vigilance dont les travailleurs bénéficient, a accru l'égalité salariale et vise aujourd'hui le bien-être au travail.
____
📝 Consulter une présentation générale du livre, 📕Les Buts Monumentaux de la Compliance, dans lequel cet article s'insère.
_______