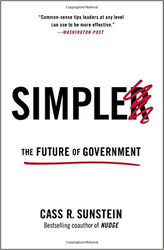 Référence complète : Sunstein, Cass. R., Simpler. The Future of Government, ... 2015.
We don't need big government or small government; we need better government. Governments everywhere are undergoing a quiet and profound revolution: they're getting simpler, more cost-effective, and focused on improved outcomes not politics.
Sur ce constat, on est tous d'accord. C'est après que cela se complique.
L'auteur, professeur de droit à Chicago, puis à Harvard, puis conseiller du Président Obama pour les questions de Régulation, dont le spécialiste américain, examine ce qui pourrait ou devrait être l'art de gouverner dans le futur : il doit devenir "plus simple".
Non pas pour ceux qui manient les règles mais pour ceux qui en subissent les conséquences, pour les destinataires des règles.
L'auteur estime que cela doit être fait non seulement pour des raisons politiques (la démocratie), mais parce que si les individus comprennent les règles ils peuvent alors choisir et agir, ce qui rend le système plus efficace. Ainsi, en matière de santé, cela sauve de nombreuses vies.
L'expérience américaine menée en matière de santé (le livre étant aussi un panégérique d'Obama, de son administration, ... et de l'auteur lui-même) peut être généralisé sur l'art de gouverner en toute matière, sur ce qui serait une technocratie participative.
On y mesurer que le Parlement n'y a guère voix au chapitre. Cela se comprend de la part d'un auteur si associé à la Maison-Blanche du temps d'Obama qui a sans cessé buté sur l'obstruction du Congrès.
Peut-on le suivre toujours sur ce point ?