ComplianceTech©. Pour lire la présentation de cette conférence en français, cliquer sur le drapeau français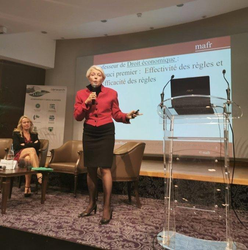 Generale Reference : Frison-Roche, M.-A., Les solutions offertes par le Droit de la Compliance pour lutter effectivement contre les contrefaçons de masse (The solutions offered by Compliance Law to fight effectively against mass counterfeiting) , in Seminar of the Association des Praticiens du Droit Droit des Marques et des Modèles (APRAM), La contrefaçon de masse : va-t-on un jour réussi à y mettre un frein ? Quelques nouvelles pistes de réflexion (How to stop the mass Counterfeiting?, some new ideas), Paris, September 27, 2019.
Read the program of the Seminar. (in French)
This conference is based on the report given to the French Government and published in July2019 : The contribution of Compliance Law to the Governance of Internet.
It is also based on the new contribution to the new edition of the Grands Arrêts de la propriété intellectuelle : "Le maniement de la propriété intellectuelle comme outil de régulation et de compliance"(in French). This publication is based on this Working Paper : The use of Intellectuel Property as a tool for Regulatory and Compliance Perspectives.
Summary : In this seminar devoted to new ways of reacting to "mass counterfeiting", the idea here is to start from the observation of an increase in the ineffectiveness of intellectual property rights - and thus of the I.P. Law. Law being a practical art, it is not a simple inconvenience, it is a central question. This can be remedied by improving the Ex Post legal process, but we can think of finding Ex Ante mechanisms. The Regulatory Law is Ex Ante, but digital world is not a sector, it is the world itself. A promising direction is therefore Compliance Law, in that it is both Ex Ante and non-sectoral. The contribution shows how Compliance Law is already useful, could be developed and how it could be applied so that these specific rights could be effectively protected in a digital world, where for the moment counterfactors have in fact the means to ignore them.
See the slides. (in French)