to read this presentation in English⤴️click on the British flag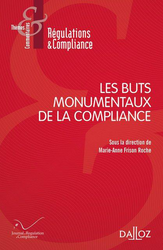 ► Référence complète : Le Goff, A., La part des banques dans la concrétisation des Buts monumentaux de la Compliance, in Frison-Roche, M.-A. (dir.), Les buts monumentaux de la Compliance, série "Régulations & Compliance", Journal of Regulation & Compliance (JoRC) et Dalloz, 2022, p.69-75.
___
► Résumé de l'article (fait par le Journal of Regulation & Compliance) : En tant que dirigeant d'un groupe bancaire, la question est de savoir si les exigences et techniques de compliance mettent les entreprises « sous pression » ou si ces obligations représentent une opportunité pour celles-ci, la première hypothèse n'excluant d'ailleurs pas la seconde. L'auteur montre que l'ensemble du secteur bancaire est sous la pression d'une réglementation qui exprime la visée de Buts Monumentaux, la complexité venant du fait que ceux-ci évoluant dans le temps, rendant parfois difficile l'obligation de s'y conformer. Dans ce cadre général, l'auteur montre qu'un acteur bancaire mutualiste comme Crédit Mutuel Arkéa en tire de grandes opportunités, puisque ces Buts Monumentaux entrent en résonnance non seulement avec sa responsabilité sociétale, notamment dans un contexte de crise, mais avec ce qui est, pour Arkéa, sa raison d'être. La régulation vient alors à l'appui du fonctionnement du groupe et de son identité.
____
📕Consulter une présentation générale du livre, Les Buts Monumentaux de la Compliance, dans lequel l'article est publié.
________