Branch collection: "Cours Dalloz - série Droit privéé" (Lecture Series-Private Law)
This manual is written in French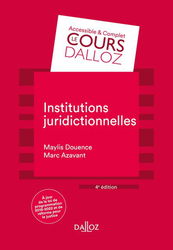 This "course", the second edition, was just released, outlines the "judicial institutions," a term happily replaced that of "Judiciary" that is to say, the principles, structures and people that allow achieving the mission of settling disputes and say the law.
Are analyzed administrative and judicial justice, courts and actors such as judges and court officers, including lawyers.

The book is aimed at students and those preparing administrative examinations or for example the entrance examination to the training schools of the Bars.
Complete reference : DOUENCE, Maylis et AZAVANT, Marc,
Institutions juridictionnelles (Judicial institutions), 1st ed 2010 / 2nd éd. 2014, Coll. "Cours Dalloz-Série Droit privé", Dalloz, 2014, 389 p.
To read (in French) the cover back.
To read (in French) the table of Contents.