ComplianceTech® ↗️ to read this presentation in English of these notes, click on the British flag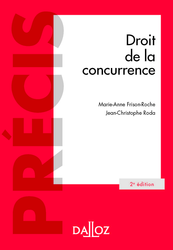 Référence complète : Frison-Roche, M.-A. et Roda, J.-Ch., Droit de la concurrence, Précis, Dalloz, 2ième éd., Dalloz, 2022.
____
Cette deuxième édition fait suite à la première édition écrite avec Marie-Stéphane Payet.
Lire l'avant-propos écrit en dédicace à Marie-Stéphane.
________