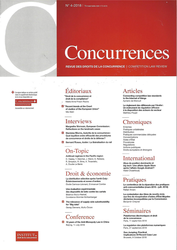 Référence complète : Frison-Roche, M.-A., Droit de la concurrence et droit de la compliance, novembre 2018, in Revue Concurrences n° 4-2018, Art. n° 88053, pp. 1-4.
__________
Resumé : Le droit de la compliance est une branche du droit nouvelle, encore en construction. L'on peut en avoir une "définition restreinte", consistant à la concevoir comme l'obligation qu'ont les entreprises de donner à voir qu'elles se conforment en permanence et d'une façon active au Droit. L'on peut en avoir une définition plus riche, de nature substantielle, la définissant comme l'obligation ou la volonté propre qu'ont certaines entreprises de concrétiser des "buts monumentaux" dépassant la seule performance économique et financière. Le droit de la concurrence intègre en partie ses deux conceptions de la compliance. Précurseur, le droit de la concurrence concrétise avec dynamisme la première conception du droit de la compliance. C'est avec davantage de difficultés mais aussi beaucoup plus d'avenir que le droit de la concurrence peut exprimer en dialectique la seconde conception du droit de la compliance comme internationalisation de "buts monumentaux", notamment dans l'espace numérique.
Abstract : Compliance Law is a new branch of Law, still under construction. One can have a "narrow definition" of seeing it as the obligation of businesses to show that they are constantly and actively complying with the law. One can have a richer definition, of a substantive nature, defining it as the obligation or the own will of certain companies to achieve "monumental goals" that go beyond economic and financial performance. Competition Law partly integrates its two conceptions of Compliance: Precursor, Competition Law concretizes dynamically the first conception of Compliance Law. It is with more difficulties but also much more future that Competition Law can express in dialectic the second conception of Compliance Law as internationalization of these "monumental goals", especially in the digital space.
Lire le document de travail ayant servi de base à l'article rédigée par Marie-Anne Frison-Roche, enrichie dans sa version numérique par des notes de bas de page, des références techniques et de liens hypertextes.