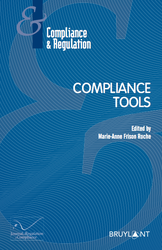 Full reference : Causse, H., Compliance Training: Through and Beyond Traditional Legal Training , in M.-A. (dir.), Compliance Tools, série "Régulations & Compliance", Journal of Regulation & Compliance and Bruylant, 2021, p. 231-244.
Read a general presentation of the volume in which the article has been published
___
Summary of the article (by Marie-Anne Frison-Roche)
The author emphasizes that not only Compliance training is required by Law but also that it is necessary. To conceive and practice it, it is certainly necessary to integrate new knowledge, often outside Law, but it is also necessary to preserve the qualities of the classical teaching of classical Law. This is why training is an essential aid and asset for companies.
The article shows that the international dimension specific to the subject and that the cultural confrontation it translates must be inserted into traditional legal systems, training succeeding by highlighting the practical imperatives of which Compliance relays the concern. To achieve this, the author maintains that it is above all the classical qualities of the lawyer and the teacher that are required; classical Law thus finding a revival, as teaching methods are revitalized by this new Compliance Law. Its teaching must therefore be anchored both in traditional legal principles and in techniques specific to Compliance mechanisms.
_____
Read other summaries
____