Pour lire cette présentation en français, cliquez sur le drapeau français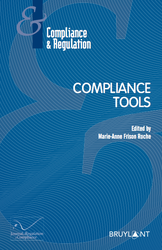 Full reference : Frison-Roche, M.-A.., Anchor points of the risk mapping process in the legal system, in Frison-Roche, M.-A. (ed.), Compliance Tools, serie "Régulations & Compliance", Journal of Regulation & Compliance and Bruylant, 2020, to be published.
Read a general presentation of the book in which the article is published
___
Summary of the article
Is the consideration by Law of the Risk Mapping mechanism so new?
At first glance yes, and one might even be surprised at this novelty, since this rational anticipation of risks should have been recognized for a long time. But this is perhaps due to the more general fact that Risk itself has only recently become an autonomous legal object in Economic Law, in particular because Risk does not have at all the same position in Competition Law and in Regulation Law (I) .. Its position is even opposed in the both, Risk becoming central in Regulation Law. Compliance Law being the extension of Regulatory Law, it is also built on the "concern" of Risk and the internalization of this consideration in enterprises therefore takes the form of mapping.
A closer look maybe not,even before the specific French laws, called "Sapin 2" and "Vigilance" and beyond them, case law decisions giving a general scope to maps drawn up by operators, or increasing the obligation that 'they have to do it (II). In this, general and precise technical Law offers points of support for Compliance Law, strengthening it in its tools.
Read the summaries of the other articles of the book
____