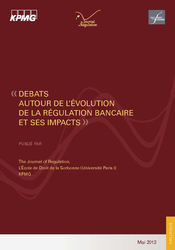 Cette publication, conçue avec KPMG, à partir d'une conférence co-organisée avec cette entreprise et l'École de Droit de la Sorbonne, est consacrée aux débats autour de la régulation bancaire et ses impacts sur l'économie réelle. L'enjeu est de rendre les personnes concernées, c'est-à-dire tous les citoyens, apte à exprimer leur opinion sur un sujet qui les concerne directement, alors même que la technicité, effective ou entretenue, les en tient à l'écart.
Cette publication veille à n'être pas technique.
De 76 pages, elle est le prolongement du colloque qui s'est tenu sur le sujet le 31 mai 2012 à Paris, organisé par The Journal of Regulation, l'École de Droit de la Sorbonne (Paris I) et KPMG.
Lire le résumé de la publication ci-dessous.