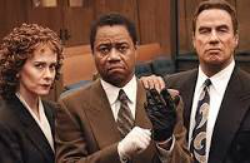 Voir la bande-annonce de la série télévisée.
Voir une comparaison plan par plan du procès et du film. La reproduction est à l'identique, mot à moi, geste par geste, expression de visage par expression de visage.
Voir l'appréciation de Marcia Clark, procureur sur la façon dont son personnage a été reproduit dans le film.
Voir l'appréciation de Robert Kardashian, avocat.
Voir l'appréciation de Mark Fuhrman, principal témoin à charge, qui refusa de témoigner. , puis témoigna longuement à la télévision après le verdict d'acquiesment dans le prolongement du livre qu'il publia.
Voir à l'inverse l'interview donnés par les acteurs.
L'entretien est présenté ainsi : "Two of the stars of FX's new true-crime drama "The People vs. O.J. Simpson" talk portraying real-life attorneys Robert Shapiro and Johnnie Cochran, and whether or not justice was served 20 years ago.".
Les acteurs sont interrogés sur leur capacité à restituer la réalité des personnes, par exemple Travolta pour Shapiro, personnes qui sont en outre encore vivantes.
On relève l'expression "true-crime drama" et le fait qu'il s'agit de savoir 20 ans après si la justice a été ou non satisfaite. C'est de cela que les acteurs discutent.
Seul le juge n'a donné aucune interview et n'a pas écrit de livre.