Direction of the collection: Cours Dalloz-Série Droit privé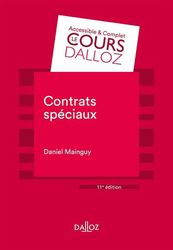 Référence complète : MAINGUY, Daniel, Contrats spéciaux, Coll. "Cours Dalloz-Série Droit privé", 12ième éd., Dalloz, 2020, 681 p.
Dans ce "Cours" destiné aux étudiants comme aux praticiens et dont la 11ième édition vient de paraître, Daniel Mainguy expose les règles techniques propres aux différents contrats spéciaux suivant qu'ils portent sur une chose ou sur un service.
Pour chaque contrat spécial, l'ouvrage expose les règles qui lui sont propres et qui puisent à la fois dans le Code civil et des lois qui lui sont propres, ainsi qu'à la jurisprudence qui s'est accumulée à son propos.
"Contrats usuels" autant que "contrats spéciaux", ils reflètent toute notre vie, de la plus quotidienne (vente, prêt, etc.) aux montages les plus sophistiqués.
Lire la quatrième de couverture.
Consulter l'ensemble de la collection dans lequel l'ouvrage a été publié.