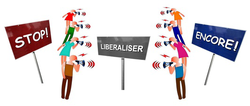 "Liberalization" refers to the process of the legal end of a monopolistic organization of an economy, a sector or a market, in order to open it up to Competition.

Since it is rare for an economy to be entirely monopolistic (which presupposes an extreme concentration of political power), the phenomenon is more particularly characteristic of public sectors. Liberalization, if it is translated into Law only by a declaration of openness to Competition, is actually achieved only by a much slower implementation of the latter, since the incumbent operators have the power to check the entry of potential new entrants. This is why the process of liberalization is only effective if strong regulatory authorities are established to open up the market, weakening incumbent operators where necessary and offering benefits to new entrants through asymmetric regulation .
This Regulation aims to build Competition, now permitted by law.

This is why, in a process of Liberalization, Regulation aims to concretizeCcompetition by constructing it. This transitional regulation is intended to be withdrawn and the institutions set up to disappear, for example by becoming merely specialized chambers of the General Competition Authority, Regulation being temporary when linked to liberalization.
It is distinct from the Regulation of essential infrastructures which, as natural monopolies, must be definitively regulated. Quite often, in liberal economies, the State has asked public enterprises to manage such monopolies, particularly in the network industries, to which it has also entrusted the economic activity of the entire sector. By the liberalization phenomenon, most States have opted to retain the management of infrastructure for this operator, now an incumbent operator competing on the competing activities offered to consumers. In this respect, the Regulator forces it in two ways: in a transitional way to establish competition for the benefit of new entrants, in a definitive way insofar as it has been chosen by the State to manage the economic monopoly of infrastructure.
Even in the only relationship between competitors, Regulation has difficulty to retreat, and this often due to the Regulator. Max Weber's sociological rules administration show about administration that the regulatory authorities, even in view of the purpose of competitive development, for example in the field of telecommunications, seek to remain, even though competition has actually been built. It does it by finding new purposes (in the above sector, the regulator could be the guardian of Net Neutralityt) or by affirming to practice a permanent "symmetric Regulation".