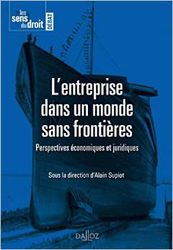 Full reference : Supiot, Alain (dir.), L'entreprise dans un monde sans frontières. Perspectives économiques et juridiques, coll. "Les sens du droit", Dalloz, 2015, 320 p.
Read the forth of cover.
Read the table of contents.
Read the introduction by Alain Supiot : L'entreprise face au Marché total.
Read Marie-Anne Frison-Roche's contribution : Les "entreprises cruciales" et leur régulation.