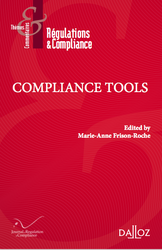 Référence générale : Geographical dominance in the choice and the use of compliance tools. Introductory remarks, in M.-A. (dir.), Compliance Tools, série "Régulations & Compliance", Journal of Regulation & Compliance et Dalloz, 2020, à paraître.
Lire la présentation de l'article "La prégnance géographique dans le choix et l'usage des outils de la compliance. Propos introductifs" publié par l'auteur dans l'ouvrage Les outils de la Compliance, publié dans la même collection.
Consulter une présentation générale du volume dans lequel l'article a été publié.
___
Résumé de l'article (fait par Marie-Anne Frison-Roche)
L
Consulter les résumés des autres articles composant l'ouvrage.
____