Direction of the collection : Cours Dalloz-Série Droit privé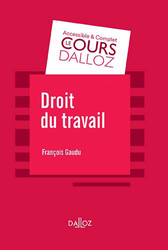 Référence générale : Gaudu, F., et Bergeron-Canut, F., Droit du travail, coll. "Cours Dalloz-Série Droit privé", 7ième éd., Dalloz, 2020, 620 p.
Ce manuel à jour des derniers textes s'adresse à tous les étudiants en droit et à tous les praticiens qui actualisent leurs connaissances.
Il développe dans une première partie les " relations individuelles de travail " ( formation du rapport contractuel, exécution et rupture du contrat de travail), pour consacrer sa seconde partie aux " relations collectives de travail ", ( conflits collectifs du travail, la représentation et la négociation collective et enfin la convention collective de travail).
Consulter la quatrième de couverture.
Consulter la table des matières.
Consulter l'ensemble de la collection dans laquelle l'ouvrage a été publié.