Teaching for the French National School for the Judiciary (Ecole nationale de la magistrature -ENM)
ComplianceTech®⤴️ pour lire cette présentation en français, cliquer sur le drapeau français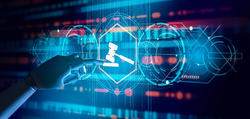 ♾️ follow Marie-Anne Frison-Roche on LinkedIn
♾️subscribe to the Newsletter MAFR Regulation, Compliance, Law
____
► Full Reference: Ancel, F. & Frison-Roche, M.A., Droit de la compliance ("Compliance Law", French National School for the Judiciary (Ecole nationale de la magistrature - ENM),
This teaching is given in French.
_____
► Presentation of the Teaching: The two-day session is designed for magistrates and practicing lawyers who are not necessarily specialized, to enable them, based on concrete cases, to understand the issues, objectives, and methods of compliance mechanisms in companies, including the increasing judicialization and the supranational dimension strengthen, modifying the office of the judge and the role of lawyers.
The analysis is made from the angle of Civil Law (contract, tort), Company Law, Labor Law and Criminal Law, but also governance, financial markets, regulatory, climate and digital issues.
____
► Organisation of the Teaching: this teaching is open to all judicial members and lawyers. Enrollments are made at the French National School for the Judiciary.
________
Jeudi 2 février 2023
LES MANIFESTATIONS ACQUISES DU DROIT DE LA COMPLIANCE
🕰 9h15 🎤Ouverture et présentation de la session, 🕴️François Ancel et 🕴️Marie-Anne Frison-Roche, directeurs de session
🕰9h30 🎤Droit de la Compliance : Tour d'horizon, 🕴️Marie-Anne Frison-Roche, Directrice du Journal of Regulation & Compliance
🕰11h 🎤L'imprégnation des branches du Droit par les mécanismes de Compliance : la gouvernance des entreprises et le marché financier, 🕴️Anne-Valérie Le Fur, Professeure à l'Université Versailles Saint-Quentin-en-Yvelines
🕰14h 🎤L'imprégnation des branches du Droit par les mécanismes de Compliance : la répression, 🕴️Guillaume Beaussonie, Professeur à l'Université Toulouse 1 Capitole
🕰15h 🎤L'imprégnation des branches du Droit par les mécanismes de Compliance : la responsabilité et le contrat, 🕴️Cécile Granier, Maître de conférences à l'Université Jean Moulin Lyon 3
🕰16h15 🎤Rapports du Droit de la compliance avec les frontières : extraterritorialité et maux systémiques, 🕴️Jean-Baptiste Racine, Professeur à l'Université Panthéon-Assas, Paris II
Vendredi 3 février 2023
CE QUI EST EN TRAIN DE NAITRE PAR LE DROIT DE LA COMPLIANCE
🕰9h 🎤Ce que font les entreprises : programmes de compliance, engagements, diligences, contrôle, sanctions, etc., 🕴️Gilles Briatta, Secrétaire général du Groupe Société Générale
🕰10h 🎤Ce qui naît du maniement par une Autorité de Régulation des outils de compliance, 🕴️Juliette Thery, Membre du Collège de l'Arcom
🕰11h15 🎤Ce qui naît du devoir de vigilance et du devoir de durabilité, 🕴️Stanislas Pottier, Conseiller spécial de la Direction générale d'Amundi
🕰14h 🎤Ce qui naît de la convention judiciaire d'intérêt public, 🕴️Jean-Michel Hayat, Premier Président honoraire de la Cour d'appel de Paris, 🕴️Jean-François Bohnert, Procureur national financier, 🕴️Christophe Ingrain, avocat à la Cour
🕰15h45 🎤La transformation de l'office du juge à travers le Droit de la Compliance, 🕴️François Ancel, Conseiller à la Première chambre civile de la Cour de cassation
🕰16h30 🎤Échanges, bilan et clôture de la session
________