ComplianceTech®⤴️ to read this presentation in English, click on the British flag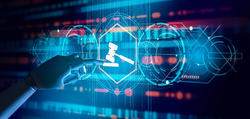 ► Référence complète : Ancel, F. et Frison-Roche, M.A., Droit de la compliance, Ecole nationale de la magistrature (ENM),
_____
► Présentation de l'enseignement : la session de deux jours est conçue pour les magistrats et les avocats en exercice et non nécessairement spécialisés, afin de leur permettre, à partir de cas concrets, d'appréhender les enjeux, objectifs et méthodes de la compliance en entreprise, dont la judiciarisation croissante et la dimension supranationale renforcent et modifient l'office du juge et le rôle des avocats.
L'analyse en est faite sous l'angle du droit civil (contrat, responsabilité), du droit des sociétés, du droit du travail et du droit répressif, mais aussi de la gouvernance, de la régulation, des enjeux climatiques, numériques et des marchés financiers.
____
► Organisation de l'enseignement : l'enseignement est ouvert à l'ensemble des magistrats judiciaires et des avocats. Les inscriptions se font auprès de l'Ecole nationale de la magistrature.
________