Direction scientifique de colloque
Paris, Grand Amphithéâtre du Collège des Bernardins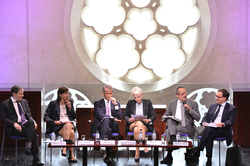 Ce colloque a été coorganisé entre The Journal of Regulation et KPMG.
La régulation bancaire touche non seulement toutes les entreprises, au-delà des banques, mais encore tous les êtres humains. Or,la technicité des discours et la fermeture des cénacles sont telles que ces questions de régulation bancaire ne sont pas « débattables » et que les personnes ordinaires, qui supportent les évolutions, n'ont pas leur mot à dire. Les enjeux et les risques politiques apparaissent alors.
Les deux sont donc liés et les interventions de la journée cherchent à satisfaire les deux objectifs : rendre débattable l'évolution de la régulation bancaire, alors même qu'elle paraît techniquement inextricable, parce qu'elle a des impacts considérables sur la vie des personnes qui doivent être en mesure de prendre la parole.
La légitimité des régulateurs impliqués serait renforcée de ce fait.
Ce colloque a été publié.