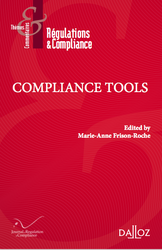 Référence générale : Amico, Th., Compliance or the passage from ex post to ex ante: a Compernican revolution for the criminal lawyer?, in M.-A. (dir.), Compliance Tools, série "Régulations & Compliance", Journal of Regulation & Compliance et Dalloz, 2020, à paraître.
Consulter une présentation générale du volume dans lequel l'article a été publié.
___
Résumé de l'article (fait par Marie-Anne Frison-Roche)
L
Consulter les résumés des autres articles composant l'ouvrage.
____